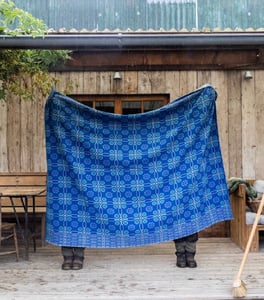 fforest Welsh blanket in fresh blues
£

275.00
Cornflower, periwinkle and forget-me-not. Like a walk in the sunshine looking out across the glittering sea, all the beautiful fresh twinkling blues.
A fforest classic to keep and to treasure.
We have our coldatnight blanket woven specially for us at a very old water mill near the banks of the River Teifi. The same water that flows through the Teifi, around our camp at fforest farm and past The Albion on Teifi Wharf in Cardigan is the very same water that turns the wheel that powers the loom that weaves our blankets.
The Mill has been weaving for 180 years, it takes a while to get good at something. The artisan wool makers of Wales enjoy a reputation throughout the world, more quality than required.
Our blanket is a traditional Welsh doublecloth weave unique to fforest.
A well thought out design consisting of peony motifs within circular waves.
We have made a few tweaks and given some new colours to a very old design, giving new life to an old way.
Using 100% pure new wool on a 1930's Dobbcross loom, each thread is put through the heddles by hand, as it always was.
We have kept the traditional chain border down the sides and blanket stitched along the ends.
Please contact us for shipping outside of the UK if it is not listed below.
180 x 220 cms
Made so well and with great care in West Wales