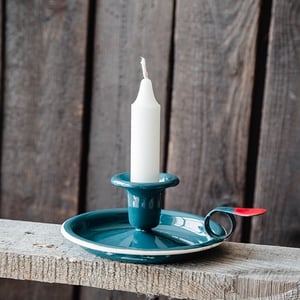 Wee Willie Winkie candlestick holder
£

24.00
Wee Willie Winkie candlestick holder
Gorgeous shiny enamel in teal green with a bright berry red splodge where you put your thumb on the holder. Reminding us of holly and berries.
Strong, solid and delightful.
We love these candle holders. They should last for a very long time, giving joy in the dusk and dark evenings.
Made in Poland where they specialise in handmade enamelware and do it really well.
140mm in diameter
78mm high
Comes with a church candle made in the UK with 8-10% beeswax content giving them a natural ivory colour.
Church candles burn with a larger flame than pillar candles.
For optimum burning, keep away from draughty conditions and keep the wick trimmed.